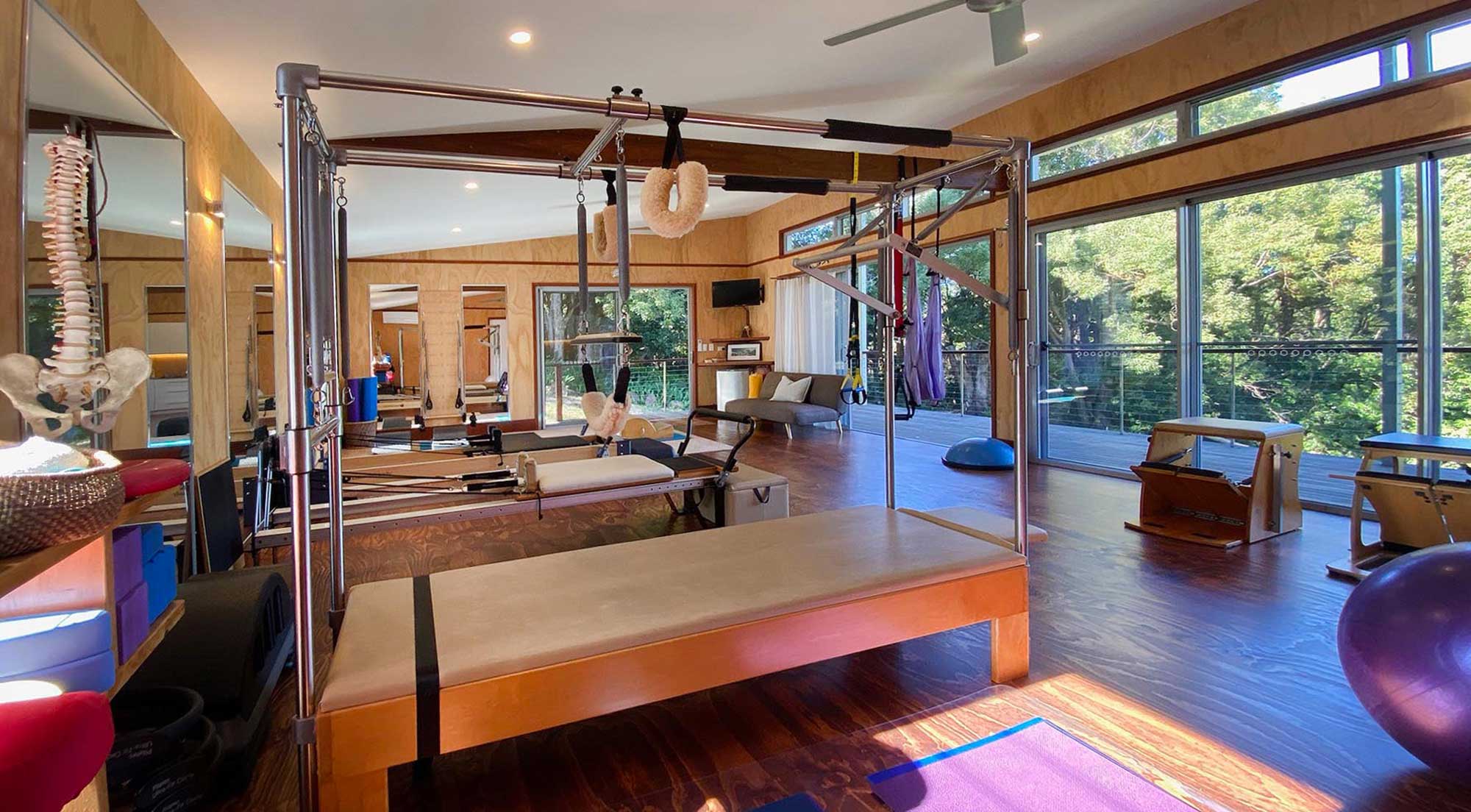 What is Pilates?
PILATES IS A LOW IMPACT WHOLE BODY WORKOUT, USING MACHINES AND AUXILLARY EQUIPMENT THAT IS IDEAL FOR ANY AGE OF LEVEL FITNESS. AS YOU LEARN AND MASTER THE EXERCISES YOU WILL DEVELOP STRENGTH, FLEXIBILITY AND AGILITY.
The Studio
East coast Pilates studio has recently located to a spacious property, on the fringe of Brunswick Heads in the Byron Shire. This brand new purpose built studio is nestled amongst the trees where you can enjoy private or small group sessions. The studio is fully equipped with all Pilates and functional training apparatus that caters to all ages and levels of health, fitness and rehabilitation.
The studio is also now available for hire, for enquires call 0408 110 006 or EMAIL Judy for more details.
Judy Leane
Judy has over 30 years in the health and fitness industry, her experiences include training 2000 Olympic swimming team, over 12 years lecturing at the institute of health and fitness TAFE NSW. Qualifications include Exercise Physiology, Strength and Conditioning Trainer, Yoga and Pilates Teacher Trainer. This is Judy's latest studio in the northern rivers having spent many years teaching in Los Angeles USA and Sydney Australia.
Classes
Open Monday to Friday 8am to 4pm.
BOOKINGS ESSENTIAL
Initial Consultation: duration 1 hour. Includes postural assessment, whole body exercises, breathing techniques and introduction to the equipment. Home plan program.
Private: duration 1 hour. The use of all equipment. Special needs. program design. Home plans.
Duets/small groups: 75 minutes. Allowing you to train and socialize with many variations in the repertoire. Intermediate to advanced.
Price packages are available on request.
For enquiries call 0408 110 006 or EMAIL Judy for more details.
Contact Judy
East Coast Pilates Studio is situated in the beautiful Northern Rivers location of Brunswick Heads, just 15 minutes north of Byron Bay, NSW.
Open Daily from 7.00am by appointment only.
For bookings and any further information please call or email and I'll get back to you shortly.
247 Gulgan Road, Brunswick Heads NSW 2483
Call 0408 110 006 or EMAIL Judy for more details.
Client Testimonials
"Since doing pilates with Judy I'm much stronger, more agile and best of all feel and look younger. There is no age limit to exercise and Pilates."
"I lost weight, strengthened my core, got rid of my back pain and gained the strength and flexibility needed to improve my world ranking and stay on the professional surfing circuit. Judy incorporated functional training with pilates and I'm in the best shape ever."
"I first approached Judy because I was receiving regular Osteopathy for management of bulging discs in my neck. Judy effectively strengthened my core and posture so that I no longer need to see the Osteopath. Further, Judy improved my strength and fitness dramatically so that I was easily able to pass the very strenuous physical entrance test for NSW Fire & Rescue at nearly fifty years of age."
"Judy Leane has a deep appreciation of anatomy and physiology, posture and function of the human body that is remarkable. She combines a knowledgeable understanding of the science with an intuitive grasp of how it all hangs together for each patient, and can help with a wide range of problems.
I am a Parkinson's patient and have been with her for several years . I regularly find that, after a session under her keen direction, I am taller straighter and calmer. I am most grateful for her work. She uses the Pilates machines with skill and safety. The very small classes size [1-4 ] mean that she gives a lot of personal attention and insight to each patient.
I am most impressed by her professionalism and skill set and am relying on her to keep me functional."